Thinking on implementing a Talent Management Program in your Company?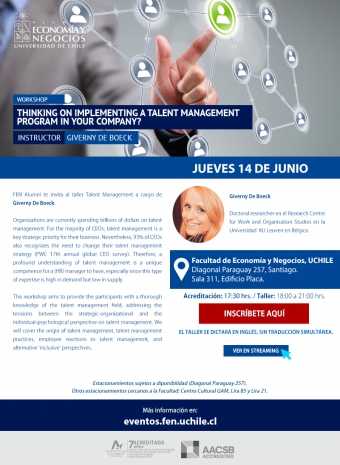 Datos del Evento
Fecha de inicio: 14 / Junio / 2018 - 17:30 hrs.
Fecha de termino: 14 / Junio / 2018 - 21:00 hrs.
Cupos: Sin límite
Descripción del Evento
Organizations are currently spending billions of dollars on talent management. For the majority of CEOs, talent management is a key strategic priority for their business. Nevertheless, 93% of CEOs also recognizes the need to change their talent management strategy (PWC 17th annual global CEO survey). Therefore, a profound understanding of talent management is a unique competence for a (HR) manager to have, especially since this type of expertise is high in demand but low in supply.

This workshop aims to provide the participants with a thorough knowledge of the talent management field, addressing the tensions between the strategic-organizational and the individual-psychological perspective on talent management. We will cover the origin of talent management, talent management practices, employee reactions to talent management, and alternative 'inclusive' perspectives.

In the workshop, we will define and explain fundamental concepts, theories, and findings in the field of talent management (TM). Moreover, we will also discuss the basic building blocks that organizations need to take into account when developing talent management in practice. Next to challenging individuals to come up with a mindmap for the development of talent management in their specific companies, the workshop will also consist of illustrative exercises and group discussions.

Instructor: Giverny De Boeck

Giverny De Boeck (Wilrijk, 1990) is a doctoral researcher at the Research Centre for Work and Organisation Studies (KU Leuven, Belgium). Her interests include talent management, meaningful work and temporality. Central to her research are questions concerning employee experiences of (not) realizing potential at work.

El taller se dictará en inglés, sin traducción simultánea

Streaming http://www.postgradouchile.cl/index.php/streaming/

Charla jueves 14 de junio
Acreditación 17:30pm
Taller: 18:00pm a 21:00pm
Sala 311 Edificio Placa
Diagonal Paraguay 205
Estacionamientos sujetos a disponibilidad
Otros estacionamientos cercanos a la Facultad: Centro Cultural GAM, Lira 85 y Lira 21.